First Appearance:
Detective Comics #156
Designed/Illustrated by:
Dick Sprang (Pencils)
Charlie Paris (Inks)
Base Car:
1950s Studebaker and/or Cadillac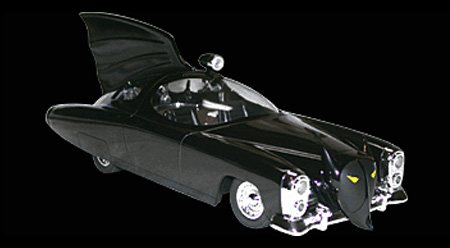 In February 1950, Detective Comics #156 showcased an all-new Batmobile. After the previous car was destroyed pursuing a gang, Batman revealed that he had plans for a new Batmobile, one that was going to be "ten years ahead of anything else on wheels." Though the shape of the car (the nose in particular) resembled a Studebaker, it was as long as a Chrysler Imperial; inside was a complete laboratory with cabinets, a work stool, and a counter. Other features on the car included a steel "knife edge" nose to cut through barriers, a roof mounted searchlight that could double as a Bat Signal projector, a plastic canopy/windshield, rocket thrusters, and on-board television and radar screens. Carryovers from earlier designs included the vertical roof fin and bat mask, though both were more integrated into the design. Though the basic design would carry on for several years, the specific details of the car would evolve several times through the 1950s.