First Appearance:
Detective Comics #48
Designed/Illustrated by:
Bob Kane
Base Car:
1936 Cord 810/812 *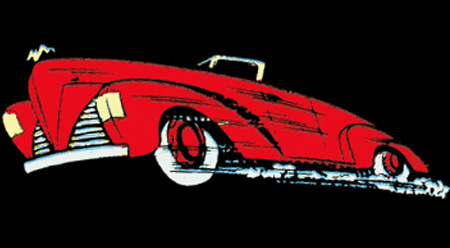 Batman drove high-performance cars since his debut, but the term "Batmobile" didn't appear until nearly four years later in February 1941's Detective Comics #48. The car that first used the name was unlike later cars: this one was a bright red convertible that lacked fins, shields, or any other "bat" theme save for a small gold hood ornament. It did, however, sport a supercharged engine capable of tremendous speeds and a heavily reinforced nose capable of smashing through buildings without suffering any damage.
The bulk of the design was based on the Cord 812, a revolutionary design that featured America's first front-wheel drive design with independent front suspension, a 185HP V8, a semi-automatic transmission with overdrive, retractable headlights, variable-speed wipers, and a sleek, low-slung body (including fully hidden door and trunk hinges). The set back engine meant that there was ample space between the front of the car and the front of the engine, an ideal place for Batman to add the "battering ram" nose without risking damage to the car's mechanical components.