First Appearance:
Batman Black & White #5
Designed/Illustrated by:
Paolo Rivera (Pencils)
Joe Rivera (Inks)
Base Car:
N/A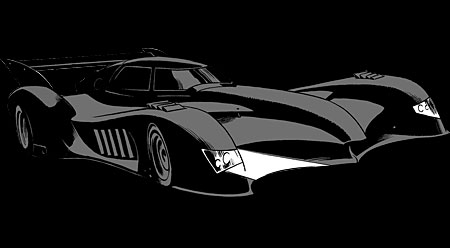 A new 6-issue Batman: Black & White launched in late 2013, and like the first series it was made up of all-new stories. One of those was "Hell Night," in which Batman has come back to a traitorous Bat Cave after a hard night in Gotham.
This Batmobile was featured in the first panel of the story, but was short-lived thanks to the Cave's defense systems. Before its demise, however, we got to see that it was equipped with a variable suspension to allow off-road travel, two-way voice communication, and air bags. The design appears to be influenced by closed cockpit LeMans Prototypes like the Bentley Speed 8 or Peugeot 908.