First Appearance:
The LEGO Batman Movie
Designed by:
Animal Logic
The LEGO Group
Base Car:
N/A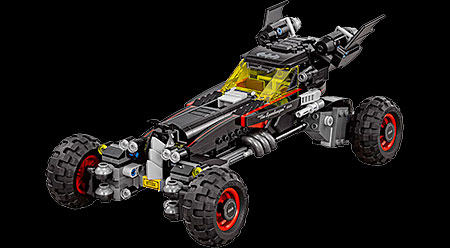 Of all the colorful characters featured in The LEGO Movie, Batman became a favorite of both fans and filmmakers and as a result got his own LEGO movie in 2017. As usual, a new outing meant a new Batmobile (or two). The first Batmobile we see in the movie is this one, a large machine that follows all the typical long hood/armored cockpit/rear fin look common to Batmobiles since the late 1980s. It also takes cues from myriad comic interpretations of the car, with layered front armor, multi-spectrum headlights, a bat hood ornament, and large off-road tires. In keeping with the slightly campy/fun nature of LEGO's entertainment properties, it also has red stripes á la the classic TV Batmobile, "BTITUDE" vanity plates, and "The Speedwagon" written in white script on both sides.
Although humorous, this is still a Batmobile and as such has several features to help Batman: adjustable suspension with four-wheel steering, forward-facing blasters, an ejector seat, and variable pitch thrusters are just some of the things featured on this Batmobile. The only real disadvantage it had was a lack of space for other members of the Bat Family, something that was solved with the "Ultimate Batmobile."