First Appearance:
Batman #9
Designed by:
Greg Capullo (pencils)
Jonathan Glapion (inks)
Base Car:
N/A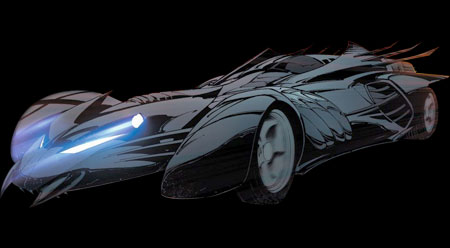 The multi-issue "Night of the Owls" storyline was the first major Batman crossover since the debut of The New 52. As the night's events unfold, Batman takes to the streets in this Batmobile. The design draws from several parts of Batman's history, including the Holy Terror and early Norm Breyfogle Batmobiles.
Although it technically made its first appearance in Detective Comics #9, drawn by Tony Daniel, he has confirmed that Greg Capullo actually created the design for Batman #9, which was released the following week. The events of Detective also happen between two panels of Batman, making both issues valid "first" appearances.
It was then used through the first half of 2013 by Jason Fabok in Detective Comics, usually parked in the Batcave or acting as standard transportation for Batman. Fabok replaced it for the July 2013 issue with a Tumbler-inspired design, but returned to the design from Batman Eternal in 2014.