First Appearance:
Legends of the
Dark Knight #156
Designed/Illustrated by:
Val Semeiks (Pencils)
Dan Green (Inks)
Base Car:
N/A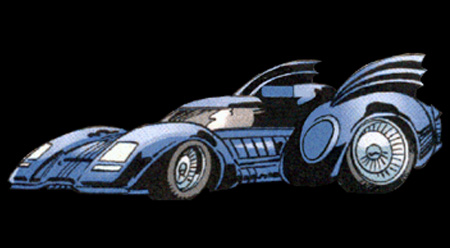 This car first appeared in late 2002's Legends of the Dark Knight comics "Blink," and was repeated in the follow-up story in 2003. Though an entirely new car, it does share some designs with earlier cars.
Some of the more overt features on the car include oversized sweeping front fenders, a small aircraft-style cockpit, and enoromous rear fins. The roof and rear fender scoops hint at a jet engine similar to the 1989 Batmobile.