First Appearance:
Detective Comics #362
Designed/Illustrated by:
Sheldon Moldoff (Pencils)
Joe Giella (Inks)
Base Car:
N/A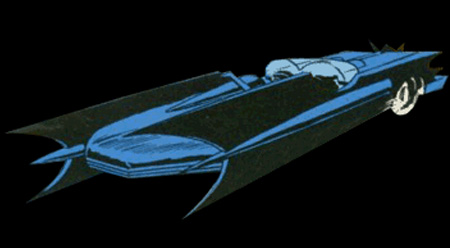 The first of the "Futura" Batmobile's influence started in the comics when this Batmobile debuted in April 1967's "The Night Batman Destroyed Gotham City." The long, scalloped fins and twin-bubble windshield were directly influenced by the Futura, while other features such as the twin hood scoops, and stacked quad headlights reflected the then-new muscle car era. An arrowhead-shaped bat mask split the horizontal bar grill, and long side pieces started behind the front wheels and tapered to sharp "spears" pointing rearward. Though the design was used for a few years, it would be only a few months before a more direct translation of the TV car appeared in the comics.