Primary Appearance:
Comic Books
Designed/Illustrated by:
Irv Novick (Pencils)
Murphy Anderson/Dick Giordano (Inks)
Base Car:
Jaguar XKE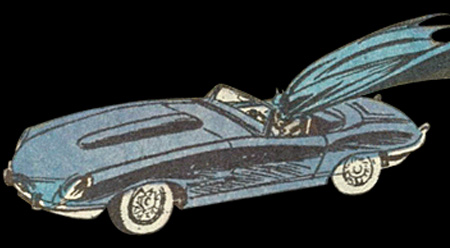 This factory-stock Jaguar XKE roadster was used in Batman #258 when Batman & Robin learned of a plan involving Two-Face hijacking a truckload of uranium. Although that was its first use as a "Batmobile," the same car had appeared previously Detective Comics #431 and was identified as Bruce Wayne's personal car (borrowed by Batman for use in a high-speed pursuit). The only difference between the cars was that it sported Jaguar's optional hardtop as a "Batmobile," but went topless as "Bruce Wayne's Car." This top up/top down reassignment of the car has appeared before in the Batman universe, as it was used in both the 1943 and 1949 serials.