Primary Appearance:
Etch-A-Sketch Fun Screen #5
Designed/Illustrated by:
Ohio Art Company
Base Car:
N/A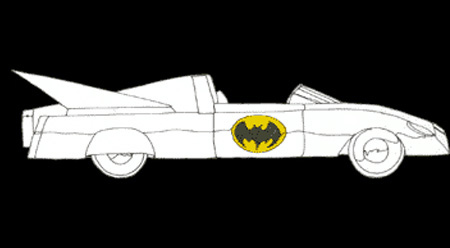 Fun Screens were transparent films with single-panel scenes to be placed over the screen of the Etch-A-Sketch. The scenes would include traditional "comic" elements, along with a simpler line drawing to trace on the Etch-A-Sketch. Among the officially licensed Fun Screens was a Batman scene with this Batmobile. Though it shares an overall design aesthetic with other Batmobiles of the time, it is a unique car with fender skirts, a blunt nose, and a "fastback" roofline.