First Appearance:
Legends of the
Dark Knight #79
Designed/Illustrated by:
Steve Yeowell (Pencils)
Dick Giordano (Inks)
Base Car:
N/A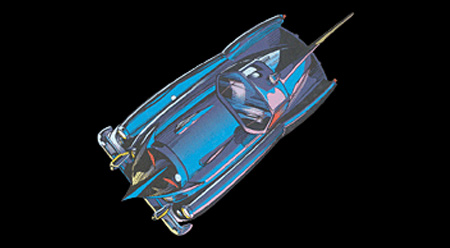 Batman is on a personal mission in the 1996 Legends of the Dark Knight story "Favorite Things." Although he spends most of the issue using a Batmobile based on the design that first appeared in "Prey," he uses this Batmobile in the opening scene. Like many other Batmobiles, its basic design comes from the 1950 car. But unlike any others, it has a traditional automotive windshield/side window/roof cockpit instead of the more typical "bubble dome."