First Appearance:
Batman #412
Designed/Illustrated by:
Dave Cockrum (Pencils)
Don Hack (Inks)
Base Car:
Chevrolet Corvette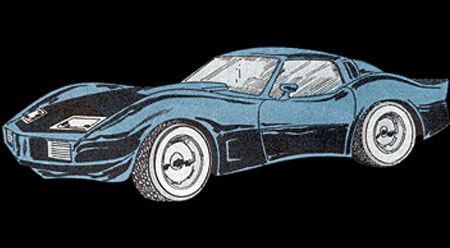 Continuing the theme of sports-car Batmobiles in 1987, this Batmobile appeared in "The Sound of Silence." Like its predecessor, there seem to be no obvious gadgets nor any major body modifications. It is not a totally stock Corvette, however, as it has had scoops added to the rear roof pillars, and sports a louvered rear window and custom wheels with what appear to be wide whitewalls. The car is used throughout the story by Batman & Robin, as they face off against a new villain: The Mime.