First Appearance:
Batman Black & White #1
Designed by:
Sean Murphy
Base Car:
N/A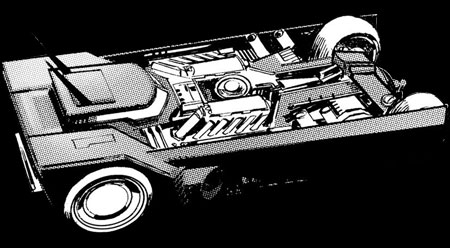 A new 6-issue Batman: Black & White launched in late 2013, and like the first series it was made up of all-new stories. One of those was "Driven," in which Batman is making repairs to the Batmobile after an on-road battle against Roxy Rocket.
Thanks to the extensive time spent under the hood, we got to hear several specifics about the car. It's powered by a traditional piston engine running nitrous oxide, and has an on-board computer capable of real-time status and diagnostics. The tires and body panels are resistant to bullets, and the panels are noted as having been manufactured overseas and routed through multiple shell companies to prevent identification as part of Batman's arsenal. Bruce continues to tinker with the design, constantly refining and improving the car's performance.
A two-page spread of the Bat Cave also incudes a couple of nice easter eggs for car enthusiasts, including a Lancia Stratos, a Lamborghini Countach, and a DeTomaso Pantera parked in a rack at the edge of the scene.
Murphy used this design again, as part of the scene on his variant cover for March 2019's Batman #64.