First Appearance:
Detective Comics #788
Designed/Illustrated by:
Rob G
Base Car:
N/A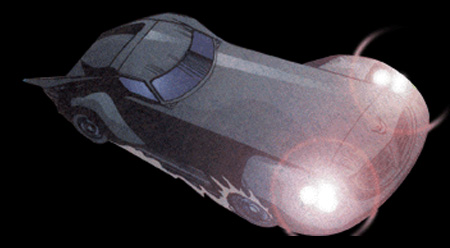 Detective Comics #788 provided two new Batmobiles. The second appeared in the backup story, "The Dogcatcher." The story focused on a dogcatcher in Gotham with the unfortunate luck of capturing the Joker's pet. Despite a petition of flyers, the animal's time runs out and it is euthenized...just as the Joker comes in to claim it. Despite his amusement at the ridiculous turn of events, the Joker shoots the dogcatcher and leaves. Fortunately, the dogcatcher's luck is with him at this point, and he survives the shooting unscathed. As he leaves the pound, Batman pulls up in this Batmobile.
The design follows the long hood/short rear design of the '89 movie car and animated Batmobile, and does appear to be turbine powered, but that's where the similarities end. This car has a rather blunt nose with a large grille opening, a Corvette-inspired roofline with flying buttress roof pillars, and quad stacked headlights mounted in wide, rounded fenders. Its appearance in the story is brief: as soon as the dogcatcher verifies that he is OK (and provides a direction to Joker's escape), Batman drives off.