First Appearance:
Batman/Aliens II
Designed/Illustrated by:
Staz Johnson (Pencils)
James Hodgkins (Inks)
Base Car:
N/A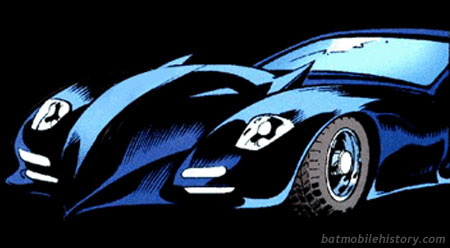 In 1997, Batman faced off against Alien Xenomorphs for the first time. Most of that series took place in the jungle on the Mexican/Guatemalan border, with only a brief scene at the end of the story in the Batcave. That scene had a partial view of the then-current comic car. Five years later, Batman/Aliens II brought the Xenomorphs to Gotham.
As before, the only appearance of a Batmobile in the series was a partially obscured view of it in the Batcave. This time, however, it was an all-new design that was only loosley based on teh standard comic car. This Batmobile is wider and flatter, with a chin spoiler and longer bat mask to give it a more sporty appearance.