First Appearance:
Batgirl & Robin: Thrillkillers
Designed by:
Dan Brereton
Base Car:
1957 Corvette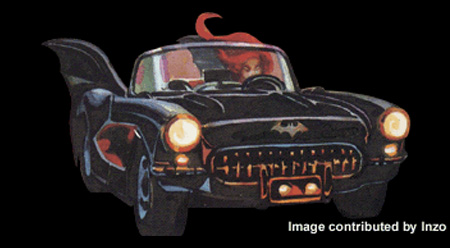 The "Elseworlds" series took existing comic characters and rewrote them in different settings and "what if..." situations. Thrillkillers tells the story of Batgirl and Robin, a pair of young vigilantes in the early 1960s. Detective Bruce Wayne is assigned to put an end to their actions, but ends up framed for murder. He eventually teams up with the young duo, and becomes Batman after Robin is killed by the Joker.
A set of fins and a bat emblem added to a classic Corvette give us this Batmobile from Batgirl & Robin: Thrillkillers. The same car would be used again in the follow-up story, Thrillkillers '62.