First Appearance:
Batman: Arkham Asylum (Video Game)
Game developed by:
Rocksteady Studios
Base Car:
N/A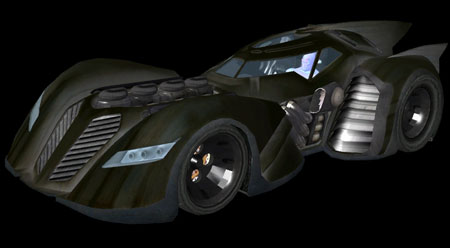 Batman: Arkham Asylum was released August 25, 2009 (originally scheduled for May 1) for the PlayStation 3, Xbox 360, and PC. Written by Paul Dini, it is slated to feature several veteran Batman actors reprising their voice roles, including Kevin Conroy as Batman, Mark Hamill as the Joker, and Arleen Sorkin as Harley Quinn.
The first views of the Batmobile used in the game appeared in early 2009 when the introduction sequence was released online. Then in mid-August, it was revealed that the PS3 version of he game will include an exclusive Batcave area featuring the Batmobile. This news included a screenshot of the car parked in the cave, offering the first clear view of the front of the Batmobile. It was also featured as the setting for most of the tie-in comic The Road to Arkham, which took place in the minutes before the start of the game as Batman drove the Joker back to the asylum.
Like many other designs from the past two decades, it draws inspiration from the 1989 Batmobile, including the louvered rear panel, cowled exhaust port, rear inlets, and side details. Unlike that movie car, though, it has a shorter wheelbase, split chrome grille, and more rounded fenders and canopy.
The design was used in the follow-up Arkham City, as well as the story "Cycle of Violence" in Batman: The Dark Knight #11 drawn by David Finch. Most recently, it was parked next to another Batmobile in Batman Eternal, drawn by Mikel Janín.