First Appearance:
Batgirl: Year One
Designed/Illustrated by:
Marcos Martin (Pencils)
Alvaro Lopez (Inks)
Base Car:
Chrysler Atlantic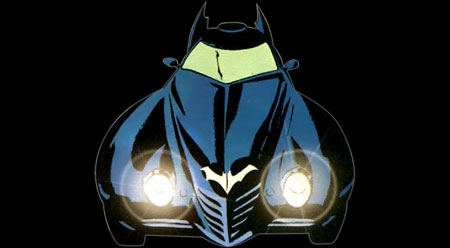 A second Batmobile appeared in the final chapter of Batgirl: Year One, "Ashes & Blood." This time, Batman has had a chance to witness Barbara's work in the field for longer, and reluctantly admits that she has the capabilities needed to join his crusade. Before he begins to train her, though, he offers one last warning about what life behind the cowl is like. This time, however, she is invited to the Bat Cave as a guest.
This is the Batmobile used to drive Batgirl to the Cave for that meeting, and unlike the previous Batmobile this one is a late-model design based on the Chrysler Atlantic show car. In addition to the newer body style, it also has the dual fins and single exhaust nozzle of more recent Batmobiles.