First Appearance:
Gotham Knights #16
Designed/Illustrated by:
Roger Robinson (Pencils)
John Floyd (Inks)
Base Car:
Dodge Viper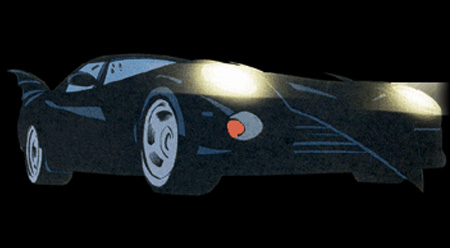 While artist Roger Robinson was using the standard Batmobile for his earlier Gotham Knights work, its destruction midway through "Transference" gave him the opportunity to tweak the design for its return in "Matatoa." This updated Batmobile appeared as a lower, wider car based on the first generation Dodge Viper: the intake port over the bat mask, rear fins, jet exhaust, and round headlight have been retained, but the grill/driving light arrangement, taillights, and side scoops are unmistakably Viper-based. Robinson retained this design through the rest of his Gotham Knights tenure.