Base Car:
1949 - 1950 Mercury
Color(s):
Black exterior/Black interior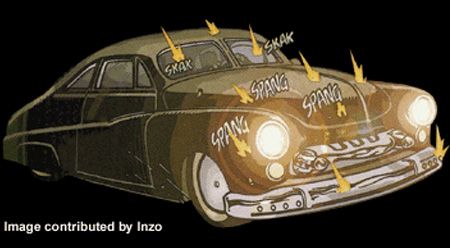 The "Elseworlds" series took existing comic characters and rewrote them in different settings and "what if..." situations. In JSA: Unholy 3, is the 2003 follow-up to JSA: The Justice Files, in which Batman, Hourman, Dr. Mid-Nite and Mr. Terrific fought the German forces of WWII. Unholy 3 picks up a few years later, when Batman and Hourman receive a new recruit: Superman. Together, they must find the one who has been killing other super-agents while in search of a device called "The Trigger."
The famous "lead sled" Mercury is the base car for the Batmobile used in JSA: Unholy 3. In addition to custom accents like shaved trim, a custom grill, and moon caps, this Batmobile features bulletproof glass and body armor, and a pair of James-Bond style machine guns hidden behind the grill bullets.