First Appearance:
Batman #25
Designed by:
Greg Capullo (pencils)
Danny Miki (inks)
Base Car:
N/A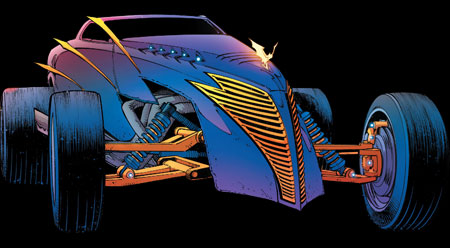 When Batman was pursued by the Gotham City Police in "Dark City," they think they have him trapped in a tunnel...until he shows what this newest Batmobile is capable of.
Capullo based this Batmobile on a 1930s coupe with a gold bat hood ornament, harkening back to the Batmobile's earliest designs. Rather than fins it has a series of three gold sweeps on each side of its fenderless body, and a late model V8 engine provides power.
This Batmobile's most unique feature is its ability to cling to the ceiling of a tunnel to avoid capture. First, the rear axle shifts closer to the center of the car where it then acts as a launching platform. The front tires then move up so that their treads are above the roofline, adhering to the ceiling and providing movement. This action must be coordinated with Alfred working from the Bat Cave, suggesting that it requires support from the main computer to function properly.