First Appearance:
Batman: Under
the Red Hood
Designed/Illustrated by:
Warner Bros. Animation
Base Car:
N/A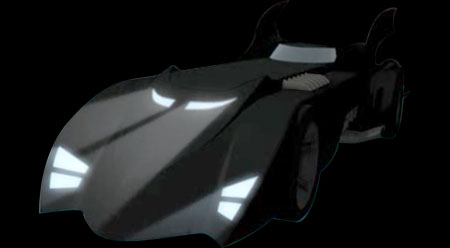 The eighth DC Universe Animated Original Movie was primarily based on the Under the Hood story arc, while drawing influences from a few other places in Batman's history. The Batmobile is one of these, having been influenced by both the B:TAS and TNBA designs. Very little is shown of the car, though based on the sound it makes while leaving the cave it uses a high-output reciprocating engine for primary power.
As with the original comic-based version of the story, Under the Red Hood contained a number of flashback scenes, including one showing Batman's first meeting with Jason as he was stealing the tires off the Batmobile.