First Appearance:
Gotham Nights
Designed/Illustrated by:
Mary Mitchell (Pencils)
Bruce Patterson & Mike DeCarlo (Inks)
Base Car:
N/A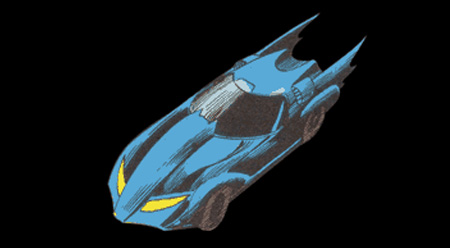 While most of Batman's comics were using the futuristic Batmobile designed by Norm Breyfogle, Mary Mitchell used a more traditional looking car in 1992's Gotham Nights. Although cues such as the headlight arrangement and dorsal intake/exhaust ports were taken from the Breyfogle's design, the overall shape of this Batmobile is more like what was seen in the late 1960s/early 1970s comics.
The rear fenders are interesting on this car, as it is one of the few Batmobiles with the fins extending straight back from the rear fenders. This design element was used that same year on a totally different machine, when the all-new Batman: The Animated Series debuted.