Primary Appearance:
Comic Books
Designed/Illustrated by:
Bob Brown (Pencils)
Joe Giella/Frank Giacoia (Inks)
Base Car:
N/A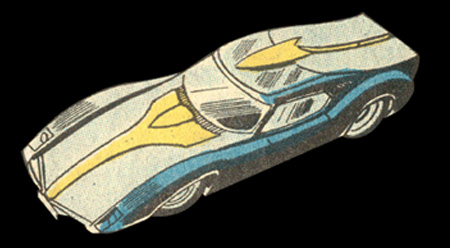 1969 saw big changes in Batman's world. Dick had moved away to go to Hudson University, Bruce and Alfred had locked up Wayne Manor and moved to a penthouse in the heart of Gotham, and the larger-than-life Batmobile became a thing of the past.
In it's place was a two-seat coupé outfitted with a turbocharged engine, bulletproof chassis and body panels, hydraulic impact absorbers built into the front end, and a smokescreen generator. To retain a low profile, it had bulletproof one-way mirrored windows and diplomatic license plates. It also represented two Batmobile firsts: gullwing doors and a remote driving system. The latter was originally developed as a safety measure to get Batman out of tight situations, but was found to be equally effective acting as a decoy and has since appeared in several Batmobiles since then.
Although it is referred to as a "nondescript" design, the yellow-striped paint job and roof accessory still retained a bit of the previous Batmobiles' bravado.