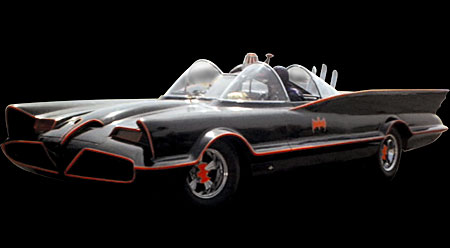 In the late summer of 1965, an all-new Batman TV series was gearing up, with Dean Jeffries hired to build a Batmobile for the show. When the show's production schedule was moved up, Jeffries had to pass on the job, which then went to custom car builder George Barris. With merely three weeks to build the car, Barris decided to use the Ford Motor Company's abandoned Futura concept car as a basis for what would go on to become one of the most famous cars in the world.
The Futura worked perfectly as a Batmobile, as it had many "bat" features built into the design already, such as the long fins and bubble canopies. According to Barris, he further enhanced the theme by converting the nose into an integrated bat mask, a first for the car. He also opened the wheel wells, and modified the Futura's fins into subtle bat wings by extending their leading edges into the doors and scalloping the trailing edges. Once bodywork was complete, the car was painted gloss black with red trim to accentuate the various lines of he car. Three replicas were eventually built by Barris' shop for promotional and exhibition purposes.
The car featured an impressive array of bat-gadgets. In addition to the "atomic turbine engine" (the car was actually powered by a blueprinted Ford V8), the car had a nose-mounted chain slicer, lasers, rockets, an on-board telephone, radar, dash monitor, on-board computer, and police beacon. If needed, the Batmobile is capable of a quick 180° "bat-turn" thanks to two rear-mounted 10' parachutes, and the it is equipped with a smoke emitter and a nail spreader to discourage pursuit. Some changes were made during the run of the series, including different license plates, a change in steering wheel, and the addition of extra gadgets such as the rear-facing camera and battering ram.
In 1979, the car briefly returned to the screen for the nearly forgotten Legends of the Superheroes show. The Batmobile had gone through several more changes in the years since Batman ended. Most notably, the gloss black paint had been replaced with a flat black flocking, dubbed the "bat fuzz." An array of new and unidentfied gadgets had been added, as well as extra antennas, placards, mirrors, a new seering wheel, and spoked "Euro" wheels. The only subtraction from the car was the bat logos, now absent from both doors.
Today, the #1 car has been returned to its gloss black finish, though many of the extra gadgets remain in place. A tribute to its popularity, it set a world record on January 19, 2013 when it sold at the Barrett-Jackson auction for USD$4.2 million. Along with this fan recognition, its influence continues in Batmobile designs today and is considered by many to be the Batmobile.