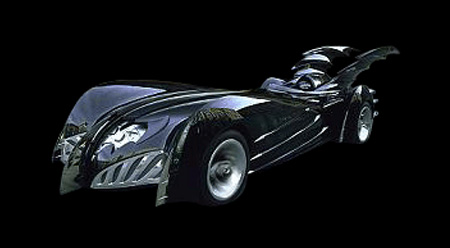 Batman & Robin was the fourth and final installment in the arc that started in 1989 with Batman. Joel Schumacher once again directed and Barbara Ling was still the production designer, but the movie featured and all-new Batmobile. Ling felt that the previous car did not have the screen presence she wanted, and should appear larger than life in the movie. According to Ling, the inspiration from the car came from older racing roadsters like the Jaguar D Type and Delahaye 165; she specifically wanted this car to be an open air car, as it was in the comics she read years earlier. Working with effects company TFX, the new Batmobile was about 30 feet long (one of the longest Batmobiles in the entire history of the car, despite being a single-seater) and road tested to 140MPH.
Like the Batman Forever car, this Batmobile featured light-up wheels and engine panels. The displays were much more involved with this car, however, with red, orange, yellow, and blue lights, as well as special pulsating lights in the counter-rotating turbine intake. Instead of a single jet exhaust, this Batmobile had a "boattail" rear flanked by separate fenders, each with three smaller exhaust nozzles. The nozzles were canted away from the centerline of the car slightly, so the final effect was that the six exhausts made a "V" pattern to keep the car pointed straight ahead. It rode on custom 22" wheels with prototype Good Year tires (as a subtle effect, the tires were cut with the bat logo as the tread). A bat mask was incorporated in the nose of the car, though the sculpted lines made it somewhat difficult to make out at first. The fins were unmistakable, though, and remain as the largest set ever built into a real-world Batmobile.
Gadgets were scaled way back in this Batmobile. Bladed fins were mounted at the leading edges of the fins and nose, and the single-seat cockpit featured a two-way videoconferencing screen, radar unit, and Redbird cutoff switch.
It is somewhat unclear as to whether or not this Batmobile was destroyed during its movie. Mr. Freeze shot the underside of the car for several seconds with his freeze-gun, and when the car crash-landed, it looked pretty fatal. However, in the next scene in the Batcave, the car is sitting back on it's pedestal looking whole again. This was the last official live action Batmobile until 2005's Batman Begins.