First Appearance:
Batman/Grendel:
Devil's Riddle
Designed/Illustrated by:
Matt Wagner
Base Car:
N/A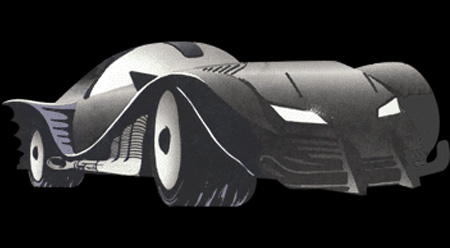 Matt Wagner is best known for his comic Grendel, and created a Batman/Grendel crossover set (Devil's Riddle/Devil's Masque) that was released in 1993. The crossover had actually been created in 1991, but when publisher Comico went bankrupt, it delayed the release of this much-anticipated story. Because of the delay, fans first got the see Wagner's take on the Dark Knight with his work in Legends of the Dark Knight. His unique Batmobile first appeared in backgrounds in Legends #29, then full & interior views appeared in #30.
Reminiscent of a 1960s-era Ferrari with the exposed side pipes and curved, sweeping fenders, this car acted as little more than basic transportation for Batman. It appeared and was subsequently destroyed in Devil's Riddle, when it was caught in the collapse of a parking garage.