Primary Appearance:
Detective Comics "Killer in the Smog"
Designed/Illustrated by:
Dick Dillin (Pencils)
Dick Giordano (Inks)
Base Car:
N/A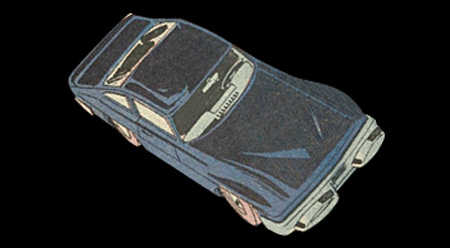 This variation of the 1970 Batmobile appeared in Detective Comics #433. It made an appearance late in the story, as Batman and Commissioner Gordon closed in on their respective ends of the current case. More than usual, the shape of this Batmobile changed from panel to panel: it first appeared with a standard long hood/short trunk profile, while its final appearance had a much longer trunk and taller rear fascia. This slope-back design appeared between those two panels, looking very much like the everyday mid-sized cars of the time.