First Appearance:
Batman #20
Designed/Illustrated by:
Dick Sprang
Base Car:
N/A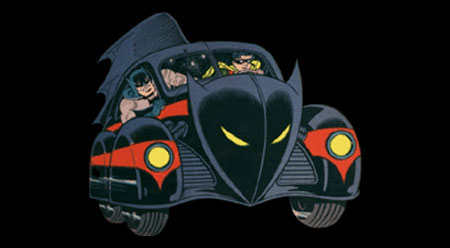 The December 1943/January 1944 issue Batman #20 featured the first ever Batmobile cover. Shown bursting straight out of the book with Batman leaning out the side window, Robin behind the wheel, and a windshield full of bullet holes, this now iconic image caught everyone's attention
Drawn by Dick Sprang, it retained much of Robinson's design with the Bat-mask grill, fender skirts, and large roof fin. However, his car had visible headlights and sported a pair of red stripes at the trim and belt lines on the car. Thanks to the dramatic image and high visibility (you no longer had to look inside the comic to see the car), it quickly became the "standard" car of the era and remains the default "1940s Batmobile" for many fans to this day.