First Appearance:
Batman #615
Designed/Illustrated by:
Jim Lee (Pencils)
Scott Williams (Inks)
Base Car:
N/A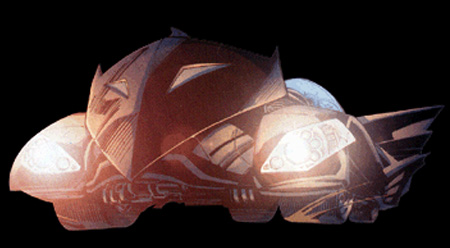 As the "Hush" storyline continued in 2003, another new Batmobile was introduced. First seen intercepting the Riddler in an armored truck, it appeared a few more times in the story until it was ultimately destroyed in Batman #619.
It was clearly based on the designs of older Batmobiles with the long body, bat-mask battering ram flanked by air intakes, tall fins, and domed canopy. However, this car uses the jet engine common to recent Batmobiles, and has a unique "fighter jet" style cockpit with the passenger seated behind the driver.