First Appearance:
Batman v. Superman (in development)
Designed by:
N/A
Base Car:
N/A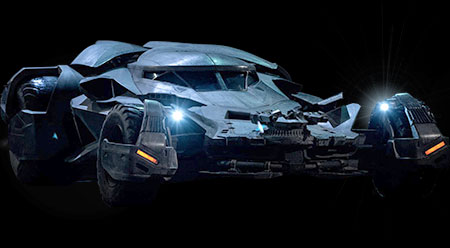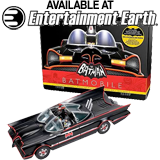 A Justice League movie has been rumored for years, and the success of Marvel's Avengers helped prompt DC to get things moving. But in this case, only one preexisting movie will be used as a starting point: Zack Snyder's Man of Steel starring Henry Cavill. Christopher Nolan's trilogy remains self-contained, and Ben Affleck will be donning the mantle for 2016's Batman v. Superman: Dawn of Justice.
Like with Batman Begins, one of the first images we saw from the movie was the Batmobile. On May 12, 2014, Zack Snyder tweeted a teaser image of the Batmobile under a tarp. The following day, he tweeted the above picture showing more of the Batmobile and a first look at the new Bat Suit. It was followed almost immediately by an image posted by Blue Realm Studios, a creative marketing, concept design, prop fabrication, and special effects studio that may be involved with the production of Batman v. Superman. Then in December 2014, KGP Spy Photography posted a number of images showing the Batmobile filming in Detroit. These provided our first real views of the complete car, including its unique split clamshell canopy:

The first full-length trailer was shown at SDCC 2015, and included a shot with Superman tearing off the roof of the Batmobile to confront Batman directly, in a scene remenicient of one from The Dark Knight Returns.
More photos and updates will be posted as they become availble!