First Appearance:
Batman: Tenses
Designed/Illustrated by:
Cully Hamner (Pencils)
Dexter Vines (Inks)
Base Car:
N/A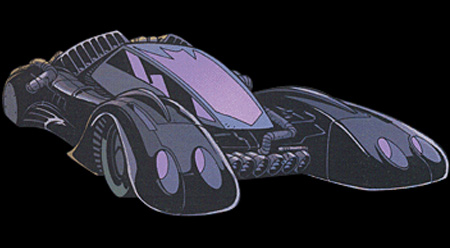 Tenses is an early career Batman story, with Bruce struggling to find a compromise between Batman and Bruce Wayne. During particularly a busy night in Gotham, this Batmobile is seen over the course of two pages as Batman finishes one rescue and prepares to intercept a department store robbery. In keeping with the "early career" theme of the story, artist Cully Hamner designed the Batmobile as a stripped-down version of the car: entirely without gadgets, fins, or any other extras, this is little more than an armor-plated rocket with a cockpit. The only specific "Bat Features" are the windshield frame (shaped like the silhouette of a resting bat) and built-in Police scanner. Even so, it does garner one compliment: a young man Batman rescues stops him just before he leaves to tell him, "cool car."