Primary Appearance:
Detective Comics "Gotham City's Strangest Race"
Designed/Illustrated by:
Sheldon Moldoff (Pencils)
Charles Paris (Inks)
Base Car:
1905 Marmon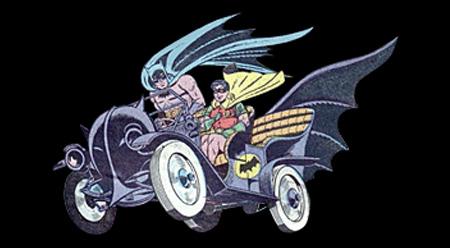 When Batman & Robin see several known criminals driving around in old cars in Detective Comics #219, they deduce that something is about to happen and decide to investigate. Their investigation takes them to a classic car convention in the town of Millville. To keep with the spirit of the festivities - where all modern cars are forbidden - Batman temporarily replaced the then-current Batmobile with this car. Based on the 1905 Marmon, it featured a Bat Mask on the front, a pair of door insignias, and a large fin on the rear. Although the car performed admirably, Robin was glad to get back to their "modern" Batmobile at the end of the story.