Primary Appearance:
Comic Books
Designed/Illustrated by:
Neal Adams (Pencils)
Dick Giordano (Inks)
Base Car:
Chevrolet Corvette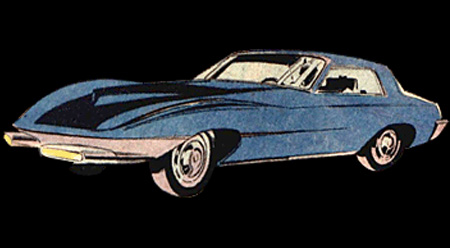 Neal Adams is widely known for his realistic style, and when he started working on the Batman universe he gave everything from the characters to Gotham City a unique appearance. The Batmobile was also redesigned under his tenure, as he wanted to create a car that fit with this version of Batman. The result was a sleek, powerful coupé that travelled "under the radar" but served to get Batman from point A to point B quickly. It's exterior was relatively plain, having only the black bat mask on the hood but no other markings.
Although it was the closest to a "civilian" model that Batman had ever driven to this point, it was by no means a stock automobile. It had a powerful engine, built-in battering ram, armor plated body panels, and a remote driving system. The design proved popular enough that it was copied and reimagined for over a decade.