First Appearance:
Batman: The Brave
and the Bold
Designed/Illustrated by:
Art Lee (Prop Designer)
Base Car:
N/A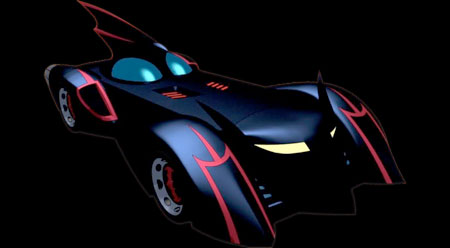 The Batman finished its run in March of 2008, but Batman wouldn't be off the air for long. The premiere of Batman: The Brave and the Bold aired on November 14 on Cartoon Network. This series is a lighter take on the character, and features a different team-up in each episode. It also includes a new Batmobile.
This Batmobile is a mix of several classic designs, such as the "double bublle" canopy and black with red pinstriping of the '66 Batmobile. The arrangement of the cockpits and overall body shape are similar to the design created by Mattel in 2004. This Batmobile also has the ability to morp into other vehicles for Batman to use, including the Batplane and the Batsub.