Primary Appearance:
Detective Comics "Crackdown on the Crime Exchange"
Designed/Illustrated by:
Ernie Chan [as Ernie Chua] (Pencils)
Mike Royer (Inks)
Base Car:
N/A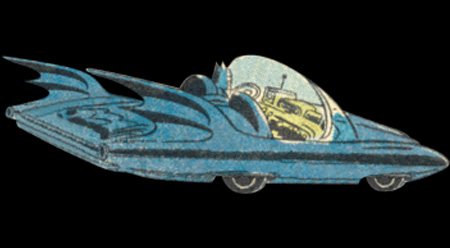 Ernie Chan modified his earlier design for Detective Comics #452. In this issue, Batman and the Police are in the rare position of playing catch-up as the criminal syndicate "The Crime Exchange" sucessfully pulls one heist after another. Batman even infiltrates their organization in disguise, but is ultimately outed and forced to make an escape. Fortunately, he is able to locate the leader of the Crime Exchange thanks in part to the Batmobile. By installing a radio receiver (the large box with antenna on top of the dashboard), he is able to track the leader to his mobile base. Although the basic idea is very similar to the Batmobile he drew previously, the body is somewhat more streamlined and the fins have been moved up and forward on the rear fenders.