Primary Appearance:
Batman Power Records
Designed/Illustrated by:
Neal Adams
Base Car:
N/A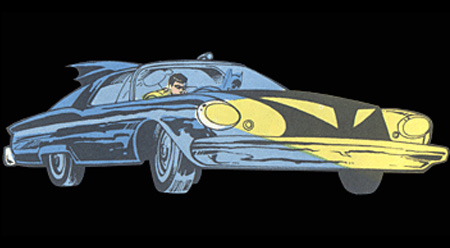 Batman was part of an unprecedented media blitz in the 1970s, and could be found just about everywhere. One of those places was as part of a series of "Power Records," which were storybook-type albums featuring superheroes and other popular characters. Batman appeared in a few Power Records, including the 45RPM album #PR-27 featuring the story "Stacked Cards." The accompanying comic featured this unique Batmobile.
Like all comic characters and props, the Batmobile is often subject to detail changes from panel to panel. It fares worse than usual in this particular album, however: the roof changes from a fastback to a notchback; the roof fin changes size, shape, and location; fender skirts appear and disappear; the rear fascia changes shape multiple times; window frames appear for a single panel and then vanish. The only things that really remain consistent throughout the book are the color, open roof, and windshield/vent windows.
This design also appeared for two panels in 1978's Batman Family #17, with Jim Aparo as the artist for that issue.