First Appearance:
Legends of the
Dark Knight #134
Designed/Illustrated by:
Marshall Rogers (Pencils)
Bob Wiacek & John Cebolerro (Inks)
Base Car:
N/A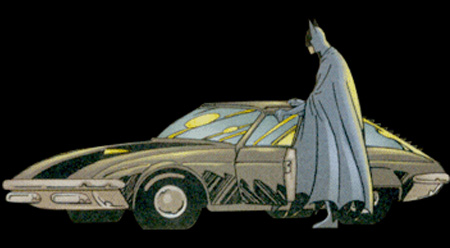 The no-frills 1970 Batmobile was a popular shorthand to indicate "Batman's early career" in stories that required a more subdued form of transportation. Unlike other "generic" Batmobiles, the details of this car remained pretty consistent with one exception: the rear window design never stayed the same. The first version had a notchback-style rear with an upright rear window and traditional trunk. Marshall Rogers' version in 1977 updated the look for a then-modern fastback roof & trunk, and then John Byrne gave it a gave it a flying butress window in 1986. Twenty-three years after his first brush with it, Rogers did the pencil work for the Legends of the Dark Knight story "The Seige" and used this design again. This time, it had a hatchback-style rear deck complete with rear window louvers. Unfortunately, even less was seen of the car this time around as it was only used for a single sequence throughout the five-issue story arc.