First Appearance:
Legends of the
Dark Knight #175
Designed/Illustrated by:
Chris Brunner
Base Car:
N/A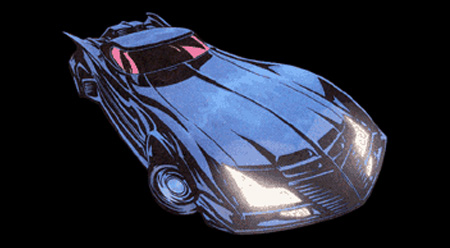 The first new Batmobile of 2004 was featured in the Legends of the Dark Knight "Testament" storyline. Relatively small yet powerful, it combined classic GM styling cues (such as the "cokebottle Corvette" fenders and Pontiac ram-air scoops) with the usual Batmobile fins, vents, and jet exhaust. Though its entrance was dramatic, this Batmobile was used only as transportation during its debut comic.
It reappeared more extensively in 2006's "Cold Case," with pencils by Ron Wagner and inks by by Bill Reinhold. A few extra features were noted in that story, including a hands-free communications array, autopilot, and a retractable roof.