First Appearance:
Batman #526
Designed/Illustrated by:
J.H. Williams, III (Pencils)
Mick Gray (Inks)
Base Car:
N/A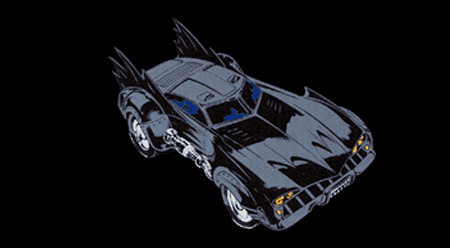 One of the most enduring Batmobile designs first appeared in January 1996. Like the Anton Furst design, it was unlike anything that had come before it, yet still instantly recognizable as a Batmobile. The nose of the car was transformed into a snarling face with the bat mask moved up onto the horizontal surface of the hood, and the traditional bat fins were replaced with rows of swept back spines resembling raised fur on an animals' back. The idea was prompted by the editors, who wanted something more "muscle car" than the Kelley Jones Batmobile that was being used at the time.
The design was quickly adopted by other artists, and unlike many previous Batmobiles there were very few variations over the years. It was also one of the more gadget-laden Batmobiles, with myriad offensive and defensive capabilities. Power was originally provided by a high-output piston engine, but this was eventually replaced by a jet turbine. It has also been shown as heavily armored, waterproof, and capable of limited autonomy.
Although it was officially destroyed in the earthquake that ruined Gotham City in 1999's "No Man's Land," it has remained a favorite of both fans and artists, and was used as late as 2008's Death Mask miniseries.