First Appearance:
Batman #629
Designed/Created by:
Dustin Nguyen (Pencils)
Richard Friend (Inks)
Base Car:
N/A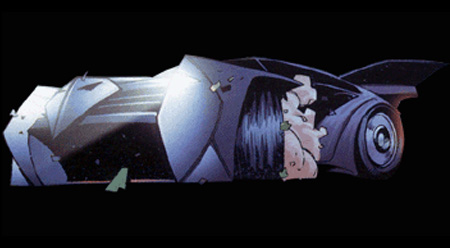 This is the second Batmobile created by artist Dustin Nguyen, and shows the first steps of a design evolution (starting in Batman #626). The "bat shield" rear fascia has been replaced by more typical fins flanking a single jet exhaust nozzle. The horizontal bar grill remains, but now has an earless bat mask shield. Finally, the fenders and roofline remain nearly identical to the previous car, but the headlights and taillights are completely different (now as flush-mounted units). For gadgets, this car is shown to have remote driving control, a blow-away roof, and the ever useful "home" voice command recognition.