First Appearance:
The Batman Chronicles #7
Designed/Illustrated by:
Jim Aparo (Pencils)
Sal Velluto (Inks)
Base Car:
N/A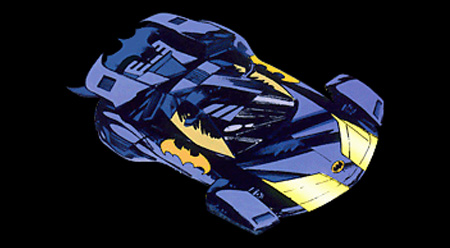 "Double Play" was mostly told in flashback, as Robin recounted an Oliver Queen/Batman story to the new Green Arrow, Connor Hawke. The former Green Arrow and Batman were trying to locate a kidnapped girl, and followed the trail to a group of illegal street racers. While Arrow took a more direct approach to interrogating the suspects, Batman offered one of the kids a chance to race against the Batmobile. This scene was inspired by the earlier work of Norm Breyfogle, both in the design of the Batmobile and the street race between Batman and an overly enthusiastic (but woefully outclassed) driver.