First Appearance:
Batman #408
Designed/Illustrated by:
Chris Warner (Pencils)
Mike DeCarlo (Inks)
Base Car:
DeTomaso Pantera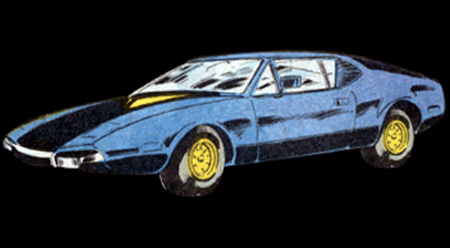 The high-performance sports car theme from the early 1980s continued with this Batmobile, though for the first time in over a decade it was based on an unmodified (at least visually) street car. Other than the era-typical blue/black/yellow paint job, the only other "bat feature" was the bat mask hood decoration.
As this issue marked the first post-Crisis meeting between Batman and Jason Todd (Robin II), it serves as an important milestone in Batman's history. The act of Jason stealing the Batmobile's tires was revisited first in the "Hush" storyline, as Batman notes that the unknown sniper's bullet took out the same tire that Jason had first stolen. A longer flashback sequence takes place in Batman #645, and includes this car. In that story, however, the baseline Pantera had been upgraded to a GT5 with extra "bat" accessories.