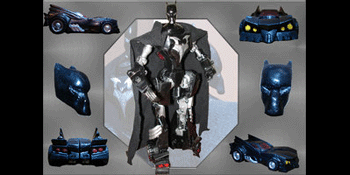 From the designer:
"I used a TFA Lockdown as the base vehicle, after all it's a good base to work with. I removed the head and neck and fixed the hands to open fully as well. I sculpted the scalped tail fins, a new head and neck assembly From 'Mighty Putty'
"I painted the whole thing gloss black like my favorite Batmobile then painted the accent points silver. add a piece of cloth from one of my "retired" batshirts for a cape and there you have it." (More images available on web site)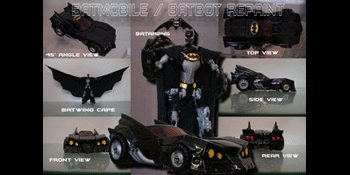 From the designer:
"those who know me know I'm never totally satisfied with any project I work on, my Batbot-mobile is no exception. So here it is, my Repainted version of my Batbot-Mobile.
"I repainted the chest silver to be more like the black/gray batsuit, added the Batlogo to the chest, hubcaps and roof. Afterwords, I coated the whole thing with clear high gloss paint. I also made a 'Batwing' cape and a custom made Batarang for effect." (More images available on web site)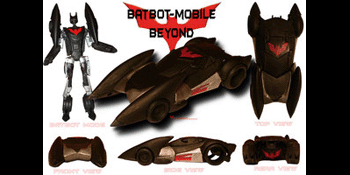 From the designer:
"I started with the TFA Blurr figure, modified the head, and hood (that's bonnet for my British fans) and sculpted the front fins from Mighty Putty. I then painted the whole thing flat black then added the silver and red details. It's kinda hard to tell from the picture but the metallic color on the hood and just behind the fins is actually a pewter color because after re-watching every episode of Batman Beyond (and The Return of the Joker movie) in the past 48 hours I've determined that the struts that connect to the fins is supposed to be lighter than black but darker than the side 'weapons panel' so i figured a pewter color was a happy medium between the two.
"I used the original head from the Blurr figure after taking it apart and removing the translucent piece as well as the unicorn like horn he had and replaced it with mighty putty that i sculpted into the bat ears, then i cut off the excess plastic parts of it's head and reshaped the face. For the hood i removed the translucent saw from the underside and then cutout a V-shape then filled with more Mighty Putty to give it a smooth and aerodynamic look." (More images available on web site)