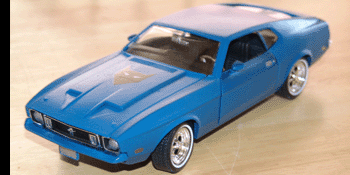 This 1/18 Batmobile was inspired by the 1973 Batmobile. The car was completely stripped and repainted to create the replica. For more pictures, visit the BYTB forum.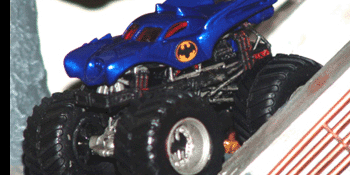 This 1/64 monster truck started as o Hot Wheels Monster Jam Batmobile. The vehicle was completely stripped and repainted, with a fully detailed chassis. For more pictures, visit the BYTB forum.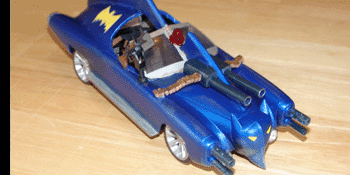 Polar Lights' 1950 Batmobile was used as a base for this Miller-esque war machine. The aggressive design features forward-facing guns and a ridged spine over the open cockpit. For more pictures, visit the BYTB forum.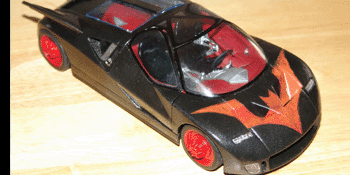 A 1/18 Ford GT-90 concept car was the donor for this high-performance Batmobile; a fitting choice thanks to the "bubble" canopy. For more pictures, visit the BYTB forum.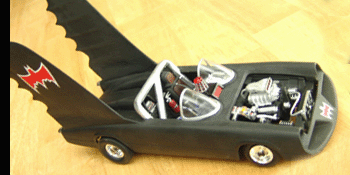 From the designer:
"Based off of the 66 JL, my inspiration was Mad Max's Car. I made a custom metal roll cage and bars to reinforce the doors. Shoehorned in a Ford BB 427 with a supercharger, hooked up to a 15lb bottle of nitrous. I hade to make custom headers just to fit in the engine bay and running with not cats or mufflers. Then I made a custom radiator to cool off this bad boy. I also made a laptop to control the motor on the fly. I put in a larger rear end and put on some big rubber in the back to keep this hog on the ground. I also molded in the doors, the trunk, lined the interior, and put in a custom racing seat. I also removed the bottom lights to allow more air flow. Then finally put on some massive wings like on the old Super Bees."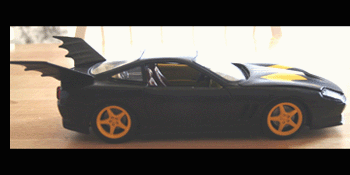 From the designer:
"Very simple Batmobile, wanted to make a luxo car for Bats to crooze in. Added the signature wings, painted wheels, added subs and 2 amps for a nice stereo system for Bman to roll with."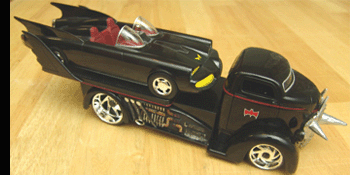 From the designer:
"Another simple mod. Painted the molding red, added a mean looking grill guard. Then placed some engine sidings from the Batman Forever car kit on the sides. Dang near fit perfect. Just a little tweaking and got em on. Made some custom Batman racing stickers and license plate."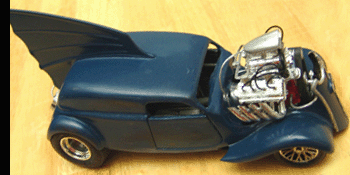 From the designer:
"This was one of my hardest mods yet, I chopped the top, which I never had done. With puddy custom made brackets I got it to fit. Then I molded in the rear doors and took out the glass that with it to make it look like a coupe. I used a JL wing and had to shape to the roof and add a rear custom cut wing to it to look like one wing. Added a custom made rear end with beefier rear axels. Place big azz 1/12 slicks. Placed bracing under chassis and bars in cab. Took out all seats and placed one racing seat with harness. Modded a new dash, a switch lever to operate parachute. Parachute in back. Then squeezed a 1/12 Chevy BB dragster motor and radiator in the 1/18th car. To make that happen I had to push the firewall back make a custom drive shaft, cut out hood support, make custom engine brackets and had to take a little metal out of engine bay. Then added two 20lb NX bottles, fire extinguisher feed into the engine bay. Lastly, added a new Bat shield in place of grill."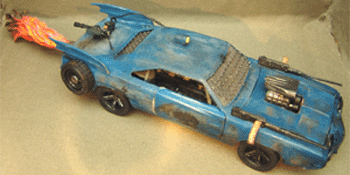 From the designer:
"Kinda crazy. I primed it, then rusted it and then painted all pretty. Then I used paint thiner and sand paper to make it look all weathered and old. Got the Idea from American Chopper where Nubs there painter made a bike that was new but then made it all old looking."